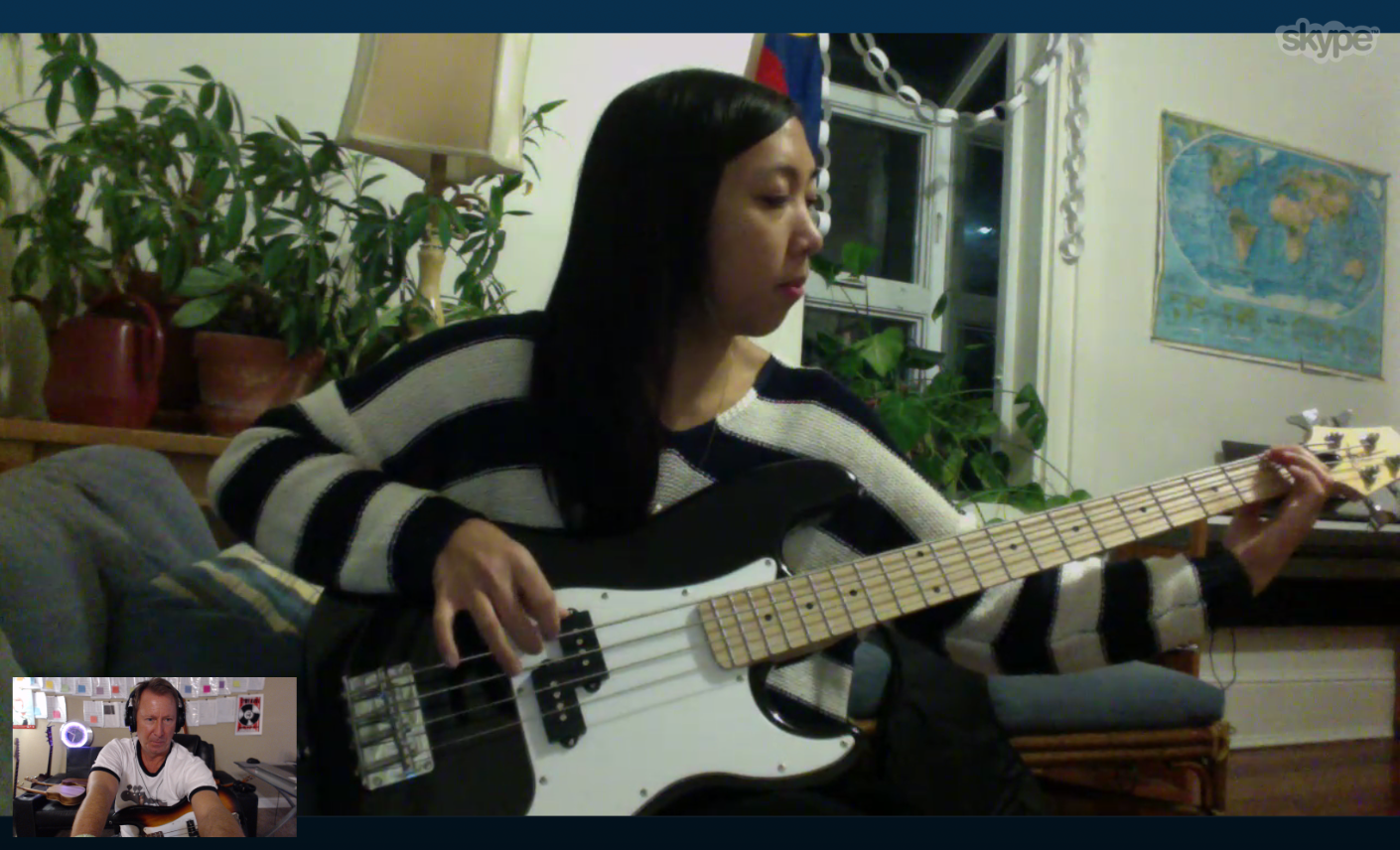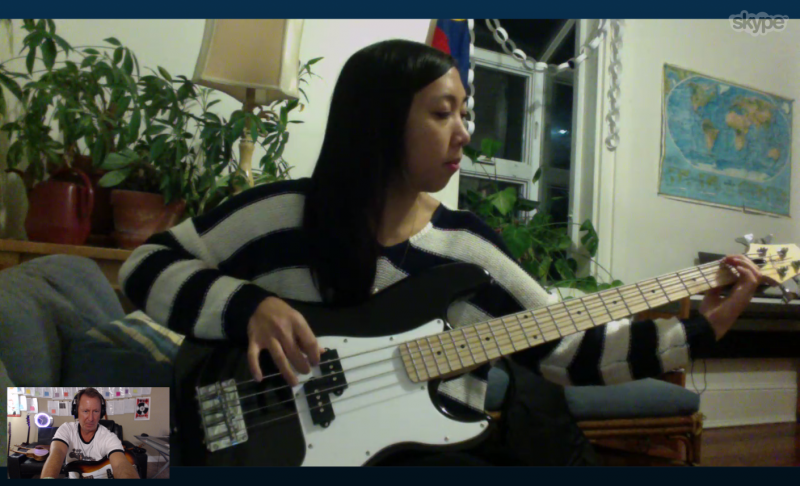 Are you looking for online bass lessons?
Jeffrey Thomas is teaching Skype bass lessons, bringing over 24 years of teaching experience to the internet. Bass guitar lessons on Skype allow the student to learn from the comfort of their home or office.  The online bass lessons are at the students pace and work just as in person bass lessons would but without the hassle of driving to a music studio or store. All that is needed for webcam bass lessons is a highspeed internet connection, a computer capable of running audio and video from a webcam. The lesson also require Skype or Google Hangout to be installed and functioning on the students computer. Jeff is happy to help with any technical questions to make sure all the camera, computer and software setting are optimized to insure a great learning experience.
Flexible Skype bass lessons
Skype bass lessons fit your busy lifestyle. Lesson scheduling is flexible and allows the student to set a regular weekly time spot, schedule lessons every other week or just pay for one lesson at a time. Taking Skype bass lessons allows you to learn in the comfort of your own space while improving your skills.  Begging to advanced students are accepted focusing on a wide spectrum of bass playing techniques, note reading, music theory and improvisation as well as multiple styles and genres.  Learn funk bass, jazz bass, punk bass, blues bass, rock bass, country bass, pop bass, RnB bass etc…
Jeff's way of teaching bass online is working great for students around the world.  Jeff also let's the student choose the music they would like to learn to keep things fun and engaging.  To set up your free Skype bass lesson just fill out the Schedule A Free Lesson form or send a message through the Contact Page.  Jeff will respond quickly and in most cases your online bass lesson can be arranged the same day.
Bass lessons that work!
All written content for your bass lesson is done ahead of time by Jeff and emailed to you before lesson time.  This allows the complete lesson to be hands on and focused on the details of playing. Take a look at Jeff's archived video bass lessons, YouTube bass lessons and online bass tabs to get an idea for the things that you can learn and the amount of work he puts into teaching. When you are ready to schedule your first free Skype bass lesson with Jeff, head on over to the Scheduling page.
I live in Virginia and have been taking Skype guitar lessons from Jeff for several months now and I'm very happy with Jeff, who is a fabulous instructor. He is very patient and encouraging and because of this I am finally doing more with my playing that ever before. He works hard for his students  and pays attention to detail— and his fine musicianship make him an ideal teacher. I look forward to our weekly lessons and to getting better as a player!
---

I have been studying Bass Guitar with Jeff for 3 years I started with lessons when I was 67 yrs old and learned more from him in three years than I ever knew about my acoustic guitar. I did this through a 30 min lesson once a week over Skype. He is a terrific teacher and very patient! I highly recommend Jeffrey Thomas as a teacher and a friend. I am in Vancouver, Canada and would never have met him except through Skype.
---

I started weekly skype ukulele lessons with Jeff in early 2014. Jeff brings an incredible depth of technical knowledge, playing prowess and teaching experience to his lessons. He has a structured approach to presenting and explaining music and has tailored his teaching style to suit my playing level, strengths and musical interests.

He prepares for each of our lessons to support my progress and is patient and humorous which makes the lesson fun. I recommend Jeff for ukulele and guitar players at all levels.
---

I am located in Tokyo, Japan and I have been working with Jeff over Skype for about 6 months. Jeff is great to work with. He very kindly transposes the music I am interested in playing and as a result of our lessons I have improved considerably. He is always on time and is very accommodating when I have to cancel a lesson at the last minute.
---

Fantastic teacher!  I've had a number of different music teacher over the last several years and none of them I felt like I developed as much of a personal connection to as I have with Jeff.  I get the opportunity to learn a wide variety of guitar styles and theory, technique and songs of my choice all at my own pace.  I have come a long way in just a few years studying with Jeff 🙂
---

Jeff is a dedicated, generous teacher who arranges music for me, coaches me patiently and takes genuine pleasure in my progress. The Skype format works brilliantly for me too.
---

I have been learning ukulele with Jeff via skype for about 12 months now, and during that time he has expanded my skills and knowledge beyond all recognition. Any song you want to learn - from pop to rock, blues, jazz or country - and Jeff will come up with a fabulous arrangement, complete with clear tabs, chord diagrams and recommended fingering.

His patience and good-humor are endless, no matter how many bum notes! I would recommend Jeff without reservation to everyone from novices to seasoned players. I am delighted to have him not only as a teacher, but also as a friend.
---

Living in a semi-rural area (Placerville, California) limited my options for finding a great teacher that could help me progress towards my goal of becoming a better classical player while developing my ability to read music and understand music theory. Although I was skeptical that my goals could be achieved within the Skype format, Jeffrey Thomas has proven that computer-based lessons can be effective. He is both an excellent player and teacher, and is fluent in most every style of music. His love of music is apparent and shines through in his teaching. I would highly recommend him to anyone who has the desire to develop as a musician and guitar player and would like the convenience of Skype-based lessons.
---

Jeffrey is a very good bass instructor.  I was a total beginner and in a few months of lessons was reading music and playing some of the songs I like!  I hope to be ready to play in a band with my friends soon.  Thanks Jeff!
---

Jeff was very helpful!  Very knowledgeable about chords and theory.  I worked with him on a song I was writing and he gave me great options for the bridge.  He pointed me in the right direction very quickly and I used all of his solutions.
---

Aloha!!! My name is Kawenaulaokala Mann. I am a kumu hula (hula teacher) presently living in Japan. Since moving here in 2008, it became apparent to me that my ability to play music on a professional level was greatly lacking. I have always wanted to seek a kind and patient guitar teacher, someone that could help me reach my personal goals. Up until recently, finding a teacher in Japan has been difficult because of the language barrier. Today, I am thankful for having found a GREAT teacher in Jeff. My lessons are done on Skype. I learn in the comfort of my own home while avoiding the language problems. Jeff has been so patient throughout his lessons. He certainly does his work with an uncanny amount of respect and integrity. Jeff always offers a positive word of encouragement to make me feel relaxed whereby I feel I am able to do the guitar lesson at hand. And, more importantly, his fee for his service, expertise and knowledge has been affordable and reasonable. I am certain that if you spent a few minutes learning with Jeff you will find as I do that he is God sent. I believe I can be a guitar hero because of him.
---

Jeff is EXTREMELY friendly and understanding.  My ukulele playing has improved in giant leaps and I do not waste time on youtube anymore!
---

Share This Story, Choose Your Platform!